Beyond giving me a good pocket Swedish-English word book on my iPhone, Lexikon has been about gaining experience with developing and selling for the iPhone. Selling an application above a free application has its own complications with the agreements and bank information.
Lexikon has so far has had three prices and seen three releases. On January 10th the first version was approved for sale. It was a free application and over the next 10 or so days would be downloaded 4190 times at that price point. Then I priced it as a tier 1 price. Then a few weeks later as an experiment and more importantly cause I felt that Lexikon was underpriced, even in the current AppStore, to a tier 2 priced app. Downloads about halved, but my revenue stayed about the same. Here is a graph of my weekly sales (week 4 was when the price doubled to tier 2):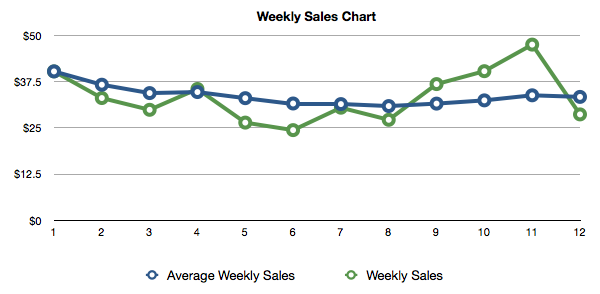 I've averaged over $30 a week. Nothing too great and it hasn't even paid for the marginal cost of my billing time. Though it has led already to other iPhone work so the experience and work gained from the exposure it gave me has it as a worthy investment of my time. Things I've seen are sales usually peak on Sunday and Thursday/Friday being my weakest sales days.
Lexikon is helped by it being a niche application, but at the same time it hurts it. I have less direct competition, but then I don't appeal to the mass market.
There are still improvements I would like to make to Lexikon. I would like to refactor my code, support all the languages Lexin does (though this is complicated since English will be a different site in the future), offline access to the database and suggestions for when words aren't found.
Having the entire database offline will be enabled once Folkets lexikon releases the database. I'm either going to make a separate application for the offline only version, or perhaps make use of the new iPhone 3.0 SDK ability to have add-on content for sale inside your application. I'll charge a nominal fee for my time making the application, and not for the actual content. Offline content is perhaps the single most requested feature to add.
The other items on the list are fairly straight forward at this point. It's merely a matter of executing on the ideas properly and well. The correction suggestions is the second most requested feature. Unfortunately it isn't really part of Lexin's API, but it's implementable.